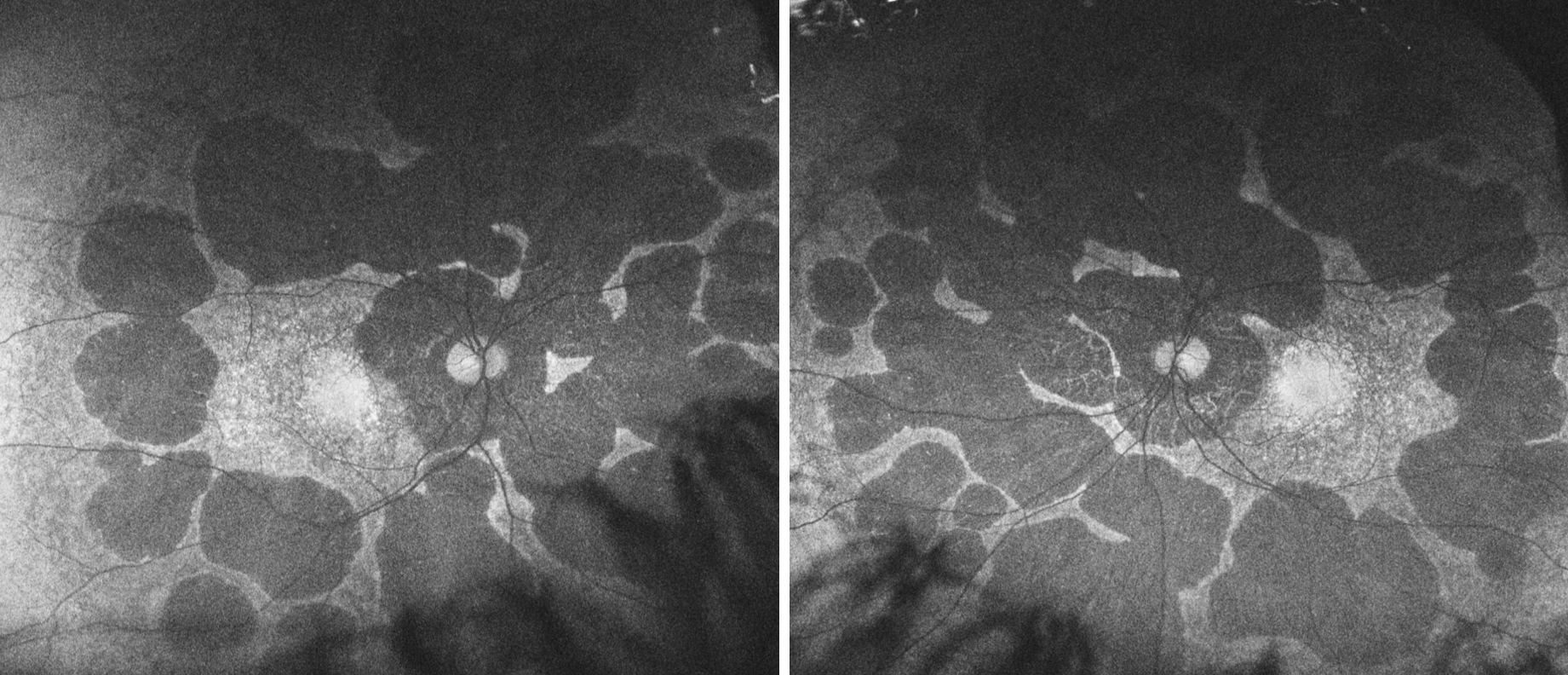 An extract from the CFEH Atlas
Gyrate Atrophy
Overview
Gyrate atrophy is an autosomal recessive condition affecting the outer retina, RPE and choriocapillaris. It is caused by an accumulation of plasma ornithine in the retina which is toxic to the RPE and choroid.
Early in the disease process, patients develop large peripheral areas of chorioretinal atrophy. These areas eventually coalesce forming a scalloped border peripherally, at the junction of the normal and abnormal retina.
Nyctalopia usually occurs in the first decade of life, followed by a progressive loss of visual field and eventually central vision is also lost.
The condition is associated with high myopia and astigmatism as well as early cataract formation. Related clinical findings may include macular oedema, choroidal neovascularisation and macular hole formation.
For most, there is no effective treatment.
Case Examples
A 30-year-old Caucasian male with best-corrected visual acuity is 6/6 (20/20) in each eye.
Colour fundus photographs show an extensive area of chorioretinal atrophy in the posterior pole but sparing the macula in both eyes.

Widefield imaging shows subtle areas of chorioretinal atrophy surrounding the posterior pole and midperipheral retina. The areas are starting to coalesce and join together. A scalloped border can be seen temporally in the right eye which represents the junction of the normal and affected retina.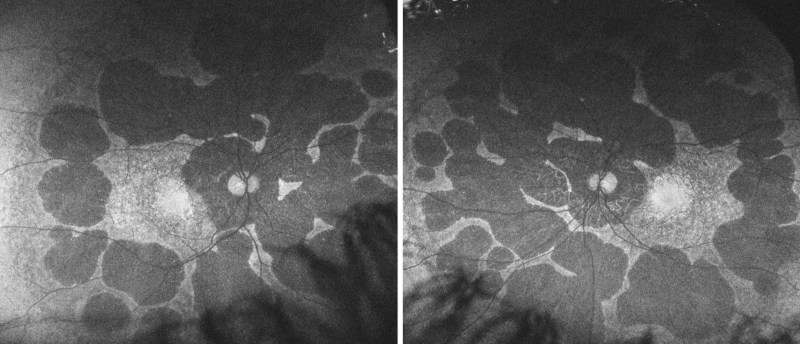 Fundus autofluorescence (FAF) reveals extensive round patches of hypo-autofluorescence corresponding to chorioretinal atrophy. The macula is spared.

OCT imaging through areas of atrophy reveals a loss of the outer retinal layers and RPE. There are intraretinal cystoid oedema and outer retinal tubulations seen in this image taken through the right macula.

Similar to the right eye, the left macular line scan shows a loss of the outer retinal layers and RPE. Intraretinal cystoid oedema and an outer retinal tubulation can also be seen in this image.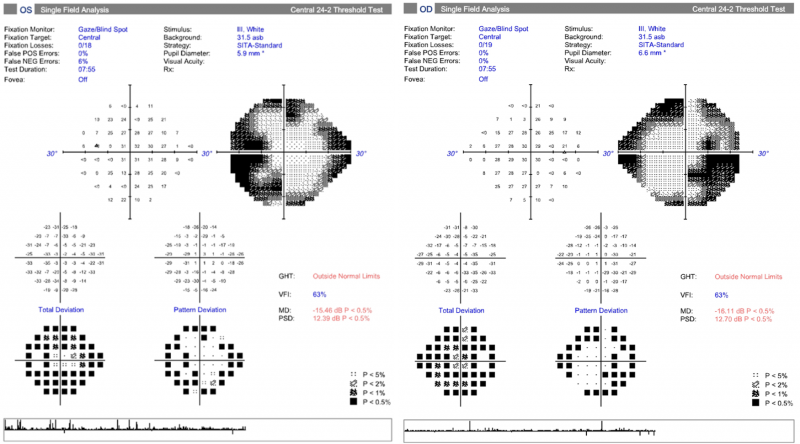 24-2 HVFA shows a constricted field bilaterally.
Differential Diagnosis
References
Sen,S. Kannan, SK., Shanmugam, U., Rajan, R., Babu, N., Vanniarajan,A. (2021) Variable phenotypes of gyrate atrophy in siblings with a nonsense mutation in OAT gene. Ophthalmic Genetics 0:0, pages 1-4.
Zhioua Braham, I., Ammous, I., Maalej, R. et al. (2018) Multimodal imaging of foveoschisis and macular pseudohole associated with gyrate atrophy: a family report. BMC Ophthalmol 18, 89