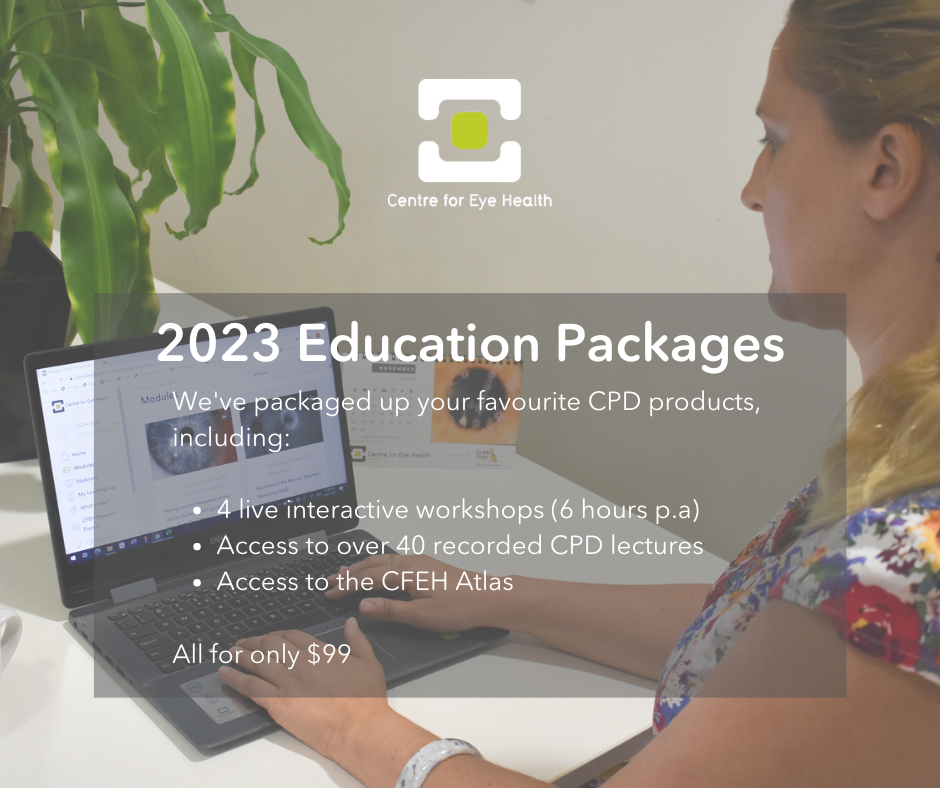 Coming in 2023
In 2023 we are excited to launch our new, all-inclusive education package.
For $99 p.a. you will have access to:
6 hours of interactive education (delivered via 4 interactive, therapeutic online workshops)
Our full back catalogue
Access to the CFEH Atlas
All of our educational resources explore the topics of ocular disease and/or advanced ocular imaging.  Using our educational resources, you can expand your knowledge of advanced ocular imaging and use this technology to supplement your clinical examination and aid in your differential diagnosis.
The program for 2023 is as follows:
Tuesday 21st February 2023 6:30pm AEDT – Advanced ocular imaging
Tuesday 18th April 2023 6:30pm AEST: Vascular disease
Tuesday 15th August 2023 6:30pm AEST: Glaucoma
Tuesday 14th November 2023 6:30pm AEDT: Macular disease
To sign up for the 2023 program, please click here.
About your purchase
As a charity, your purchase of our educational materials helps to support both Centre for Eye Health, and Guide Dogs NSW/ACT. For more information about our mission, click here.
Sign Up
Login