2022 Webinar program now available

We are pleased to announce that our 2022 Webinar Program has now been released!
Specifically designed with the Optometry Board of Registration CPD guidelines in mind, our Webinar Program includes:
Ten live events running from February-November, with five hours of live interactive, therapeutic education,
36 hours of independent learning lectures that you can access at any time,
A custom-built Learning Log to track your studies, which can easily be downloaded or printed to ensure you meet the CPD requirements.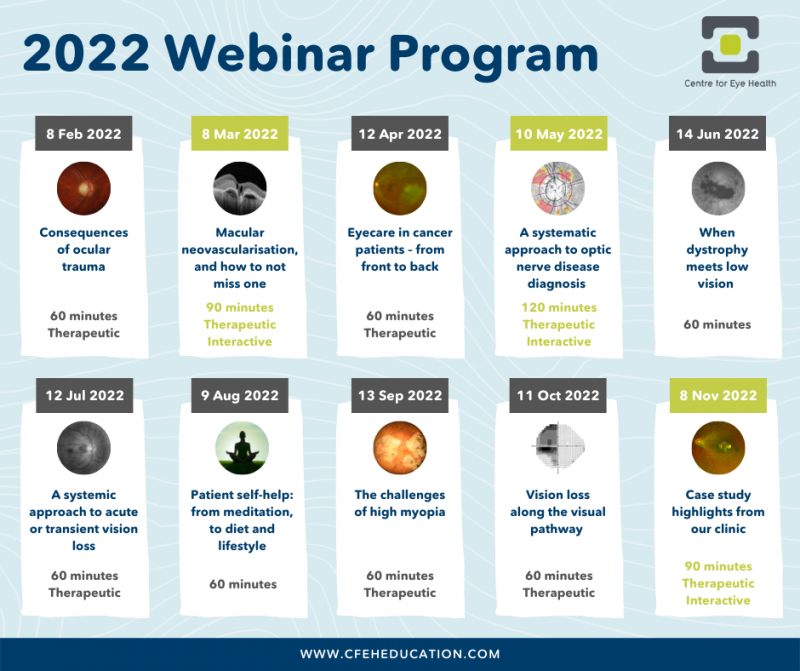 Our work is only possible through the generosity of Guide Dogs NSW/ACT and their supporters, who contribute over 75% of our total funding.  By purchasing our educational resources, you can help to ensure that we can continue to provide quality continuing education to optometrists, whilst allowing our donor funds go where they are most needed: patients who may otherwise go without the treatment and care they need due to health access inequities.
How do I sign up?
More information, including how to sign up for our 2022 Webinar Program, is available in our Learning Portal.